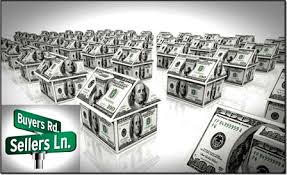 Do you own a house? Are you wondering if that house is worth selling? Let me tell you something, whatever the property you own, right now that property is made of nothing but money!
If you want proof of just how valuable that home of yours could be, lets discuss the current sellers market happening right now. For example, an 1100 Square foot home, in the Ballard neighborhood of Seattle, Washington, which was listed for sale at $559,000 just sold for $717,000, with a back up offer over $730,000! That is nearly $652 per square foot.
And, NO, that was not a typo. I did say 1100 square feet. This house I refer to, was not an out of the ordinary home people. It was an adorable, little, family stater home. Brick, standard, simple. It sold for nearly the same price per square foot that one would typically see in a luxury level, million dollar home.
Why you ask? Well let me tell you. Simply, the supply of available properties for sale, can not meet the demand of those who currently wish to buy. Therefore, when buyers want to buy, and there are not enough homes available for sale for those buyers, the competition to procure them becomes vivacious! Competitive offers will occur and the selling prices will escalate to well above the asking price. Most often that occurs with multiple offers, each one better than the offer before it. That my friends, means that house of yours is indeed made of money.
So, here is my advice. If you have even been remotely toying with the idea of selling your home, NOW IS THE TIME! And this years selling season has really not even begun, so lets sell that house! As a seller you could not be in a better position than right now to achieve a phenomenal success on that sale. Want to know what your house could sell for, I can show you that by providing you with a current market analysis of your property.
As a buyer in this hot, competitive market, it can be rough competition out there. You will need to ensure all of those ducks are in a very tidy row! Your financing will need to be in order, your inspections complete and ready to go, and you absolutely will need to have a broker capable of some fierce negotiating in order to succeed in outbidding your opponent! I have the resources to help you do all of these things.
If you are ready to sell, or buy, or know of someone who is thinking of either, I would be happy to help. Give me a call and let me help you achieve this kind of success on your next property transaction!
Erin Harold
International Real Estate Broker
C- 206.326.8961

ECHarold@Outlook.com