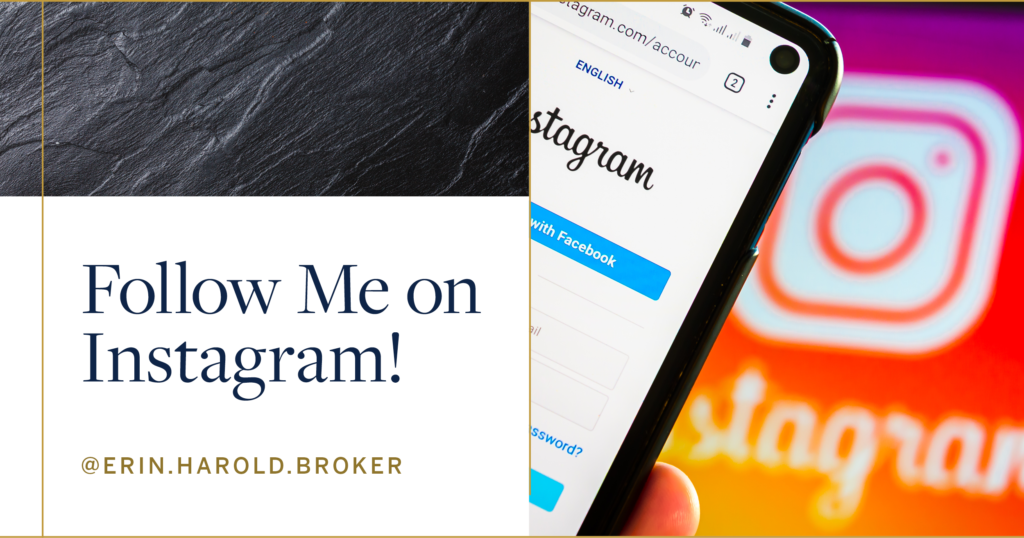 Hi There!
I hope this message finds you well. I'm excited to share some news with you – I've just launched my official Instagram account dedicated to all things real estate!
You can find me on Instagram as @erin.harold.broker, and I invite you to hit that follow button to stay connected. Here's a sneak peek of what you can expect from my Instagram:
Real Estate Tips: Stay informed with the latest real estate trends and market updates. Knowledge is power in the world of real estate, and I'm here to empower you.
Using Real Estate to Build Wealth:
Learn how strategic real estate investments can be a path to financial prosperity. I'll be sharing insights on investment opportunities and wealth-building strategies.
Tips for Home Maintenance: Discover essential insights and practical advice on how to maintain and enhance your home's value. From seasonal upkeep to renovation tips, I've got you covered.
Exclusive Luxury Properties: Get a glimpse into the world of luxury real estate. I'll be showcasing some of the most exquisite properties in Washington State and beyond.
Global Properties: Explore stunning homes from around the world. Whether you're dreaming of a villa in Tuscany or a beachfront retreat in the Caribbean, I'll be sharing some incredible international listings.
I'm thrilled to have this platform to connect with you on a more personal level and share my passion for real estate. Your support means the world to me, and I can't wait to interact with you on Instagram.
Thank you for being a part of my real estate journey. Let's embark on this exciting Instagram adventure together! Feel free to reach out with any questions or topics you'd like to see me cover.